LTTSA: An Apron For Tesla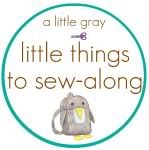 Sigh… I finished the apron. Man sometimes it is just exhausting trying to do one thing. Well this is the third installment of the Little Things to Sew Along hosted by A Little Gray. Luckily the apron was a simple sew so I managed to finish it today around 5pm, just in time to make dinner. I just knew that Miss Tesla was not going to be willing to model it well for me so I took some pictures of it without her in it first then some lovely pouty pictures after. (She had just woken from a nap.
I use a 100% Duck Cotton from Fabric.com. I love this fabric. I've used it a few times to make stash baskets. I used it for the apron because everything seems to fall right off of it. Although the instructions are to hang dry it, it does wash well. I did use pre-made bias tape because I needed easy, and that was easy. Funny story though. I went to a local quilt shop to check them out and get bias tape. I found some adorable fabric that I bought for a future quilt for Tesla and when I asked if they had bias tape, the woman was like "uh, premade? I don't think so, let's go look…." And it turns out they only had two packages of red. Which is what I needed. Score!

I used green snaps on the back. My husband got me my fancy schmancy snap maker about 6 months ago and I love it! No more trying to get everything to line up.
Here is Miss Tesla being forced to have a picture taken. Papa helped by posing with, not sure she would have gone over to the wall otherwise and of course Benny had to get in on the action.
Here is Papa trying to make Tesla smile, with a silly face. (Seriously she's been doing this face to everyone and now, NOW she won't do it.) Of course Mister Ben is looking happy as can be with his 9 teeth at almost 10 months!
I just have to include one all alone. She obviously loves it obviously. When Grandma came over later she screamed when she tried to put it on her. Obviously loved it.
So since this clearly was not such a happy afternoon. I just have to share with you another day this past month when we were at Disneyland!!! WHERE you ask?? That's right we went to Disneyland. The night we arrived they had Mickey's Halloween Trick or Treat Party and Tesla got to dress up in her costume as Jessie from Toy Story. Then we got to meet her. It was a pretty awesome experience.
Tesla pretty much feel right into her arms and hugged and hugged and hugged her. I totally teared up. She must have hugged her for minutes and minutes. Then she posed so nicely for the camera. It was great. Afterwards she kept saying Jessie was her friend. It was great, did I see that? Great!
Thanks so much for checking out Anne Made! Be sure to go check out the rest of the aprons at A Little Gray. Jessica's in particular are wonderful and this one from Ava Craft is so cute with it's balloons.